BW Clip Disposable Single Gas Detector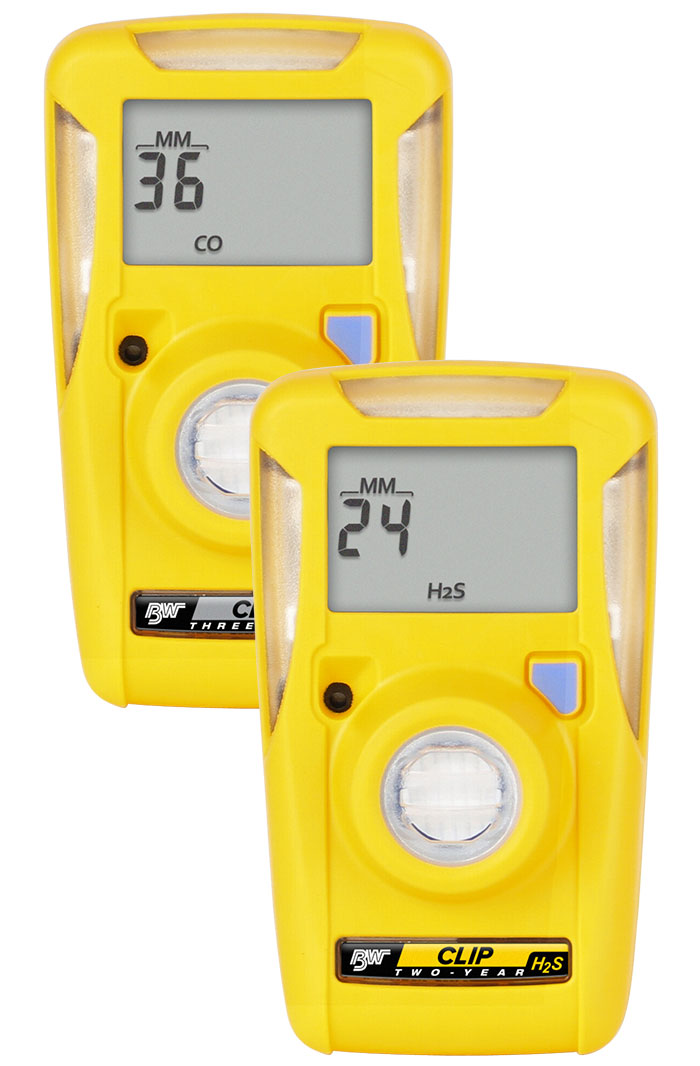 Keep your workers safe with the NEW Honeywell BW™ Solo single gas detector. Easy to use, cost effective and reliable life span. High standards of sensor quality and reliability.
The BW Clip, which replaces the GasAlertClip Extreme, is a new maintenance-free, singlegas detector. As your everyday companion for hazardous environments, the BW Clip has everything you love — plus new features to make your gas detection easier, safer and more reliable.
• It's available for hydrogen sulphide, carbon monoxide, oxygen or sulphur dioxide.
• It comes in two-year and three-year versions: Just turn it on and go — with no need for calibration, sensor replacement, battery replacement or battery charging.
• If you use the two-year detector for hydrogen sulphide or carbon monoxide, you can hibernate it when you're not using it — and get up to 12 months of extended service life.
• It has a new automated self-test to improve safety
• It's the most comfortable, user-friendly portable detector in its class.
• It is compatible with the MicroDock II, providing an instant transition from the GasAlertClip Extreme.
• And for even more value, you can use the BW Clip with the new IntelliDoX instrument management system. Using this system, you can bump test each detector in fewer than 10 seconds and change the factory alarm setpoints to meet your requirements. And that's just the beginning. The BW Clip is engineered to the highest standards of quality and reliability, so you can feel confident that the BW Clip is protecting your workers — and your operations — 24/7.
The gas sensors available for the BW Clip are :
Carbon monoxide (CO), Hydrogen sulfide (H2S), Oxygen (O2), and Sulphur dioxide (SO2)
Accessories are available from Gas Monitor Point which can be found on our accessories and spares section of our website.
BW Clip Features & Benefits:
Maintenance-free: no sensor or battery changes necessary
Compact, lightweight design with one-button operation
Designed for a range of harsh environments and extreme temperatures
Hibernation mode with case accessory or IntelliDox
Automated self-test of battery, sensor and electronics
Wide-angle flash, which alerts simultaneously with audible and vibrating alarm
Automatic logging of the 35 most recent gas events and bump test results
Compatible with MicroDock II and Fleet Manager II software
Affordable, with low cost of ownership
Specifications:
Size: 1.1 x 2.0 x 3.2 in. / 2.8 x 5.0 x 8.1 cm
Weight: 2.7 oz. / 76 g
Typical battery life: Two years (H2S, CO, SO2 or O2) or three years (H2S or CO)
Tests: Full function self-test on activation and every 20 hours, and automatic battery test every 2 hours
Ratings: EMI/RFI: Complies with EMC Directive 89/336/EEC IP 66/67
Large confidence LCD displays life remaining in months, days and hours
Displays peak alarm exposures encountered on demand
User-activated daily self-test
Internal vibrating alarm for high noise environments
Records and transmits gas alarm events
Standard features of BW products:
• Continuous LCD shows real-time gas concentrations
• Compact and lightweight design makes it comfortable to wear
• Water-resistant
• Simple automatic calibration procedure; compatible with BW MicroDock II automatic test and calibration station
• Full function self-test of sensor, battery status, circuit integrity and audible/visual alarms on start up
• Bright wide-angled visual alarm bars
• Built-in concussion-proof boot
For Full Specifications and details please click on the DataSheet link below.
Please contact our helpful sales team on +44 (0) 1704 330 315 if you would like to discuss your requirement or application.
Product designs and specifications are subject to change without notice. The user is responsible for determining the suitability of this product.